Description
SHARP Dry Iron AM-285T 1100W
Product Detail
– Power (Watts): 1100
– Glazed iron face: Ceramic coating
– Warranty (Year): 2
– Compliant: TIS. 366-2547
– Heat adjustable (level): 4
– Machine size (cm): 15.30 x 11.30 x 25.40
– Power cord length (meters): 1.8
Sharp iron can penetrate every iron that is difficult to iron. With a specially designed iron head Smooth iron every set as you wish Can adjust the temperature to many levels Suitable for many fabrics, colorful, easy to use, safe, good value for money, Japanese standard
1,100 watts of power, lightweight for smooth ironing, colorful, easy to use, suitable for all fabrics, special iron head Penetrating at any point that is difficult to iron, can adjust the heat to 4 levels, according to the type of fabric Cotton, Wool, Nylon Silk, and Synthetic. The surface of the ceramic coating Non-scratch, easy to iron, easy to clean Safe according to SHARP Japanese standards. There is a safety fuse system. Cut off the circuit when the temperature is abnormally high The machine is made of grade VO plastic, does not fire.
Can adjust the heat to 4 levels, suitable for many types of fabric
A (Synthetic) Various types of synthetic fabrics such as acrylic.
B (Nylon, Silk) Rayon and Nylon
C (Wool) Flannel Wool
D (Cotton, Linen) Cotton and linen
Ceramic coating
Good heat resistance Non-scratch, easy to iron, easy to clean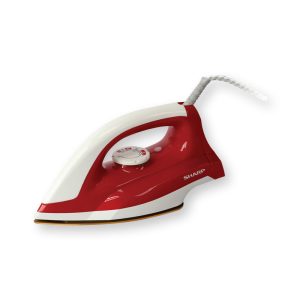 Additional information
| | |
| --- | --- |
| Weight | 1 kg |
| Dimensions | 16 × 12 × 26 cm |