SHARP Rice Cooker #Ksh-D15 1.5L.ชาร์ป หม้อหุงข้าว ขนาด 1.5 ลิตร รุ่น H-D15
In Stock
Description
SHARP Rice Cooker #Ksh-D15 1.5L.ชาร์ป หม้อหุงข้าว ขนาด 1.5 ลิตร รุ่น H-D15
ขนาด 1.5 ลิตร
ปลอดภัยมากขึ้นด้วยเทอร์มอลฟิวส์ ตัดการทำงานทันทีที่ระบบไฟฟ้าภายในหม้อทำงานผิดปกติ
ระบบอุ่นอัตโนมัติ ให้ข้าวอุ่นพร้อมรับประทานตลอดเวลา
มือจับ แผงสวิตช์ และขาตั้งออกแบบให้มีสีสันกลมกลืน
ขนาด (กว้างxสูงxลึก) : 308 x 249 x 257 มม.
กำลังไฟฟ้าเข้าขณะหุง 530 วัตต์
รับประกันสินค้า 1 ปี
Item description : Rice Cooker
Brand : Sharp
Item detail :
Sharp Rice Cooker 1.5 L Model KSH-D15 1 unit x1 pc
Safer with thermal fuse. Cut away the electrical system malfunctions pot
Delicately infused with the sacred life.
Automatic warming system The warm rice ready to eat anytime
Handle handle switch and Stand colorful design element
Width 308 mm. High, 249 mm Deep. 257 mm. The
Input power while cooking 530 watts,
1.5 liter,
1 year warranty.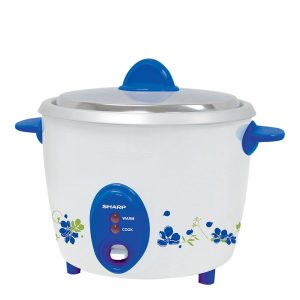 Additional information
| | |
| --- | --- |
| Weight | 1.5 kg |
| Dimensions | 26 × 31 × 25 cm |