Waiwai Quick Cup Instant Noodle Chili Paste Tom Yum 60 g x 6.ไวไวควิก บะหมี่กึ่งสำเร็จรูป รสต้มยำพริกเผา 60 กรัม x 6 ถ้วย
In Stock
Description
Wai Wai Quick Instant Cup Noodles Tom Yum Prik Pao flavor, packed 60 g. X 6 cups
, sip the soup to the machine, ready to serve soft and chewy noodles with a quick quick cup instant noodles. Tom Yum Chili Flavor Made from good quality raw materials Through a standardized production process, good taste, fragrant Tom Yum chili paste. Just boil it in hot water until it boils. Add seasonings as you like. Now it's ready to eat
. – Wai Wai Quick instant noodles in a cup. Tom Yum Chili Flavor
– Made from good quality ingredients Through a standardized production process
– Good taste, fragrant Tom Yum chili paste to your heart
– Just boil in hot water until boiling. Add seasonings as you like. That's it, it's ready to eat.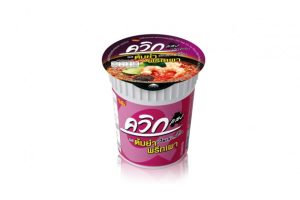 Additional information
| | |
| --- | --- |
| Weight | 0.36 kg |
| Dimensions | 12 × 12 × 8 cm |